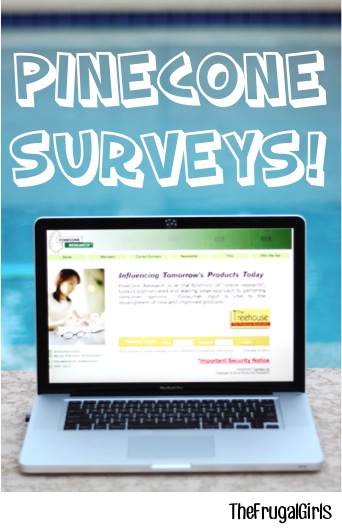 This offer is no longer available!
Have you tried Pinecone Research yet??
I've been a member for awhile, and it's a great way to earn a little extra money!

Here is what some other Frugal Girls have to say about Pinecone Research…
"Have been a member of Pinecone for several years and have to admit that the $3 often paid for taking their online surveys sure adds up quickly. Plus I've been able to sample/test some really great products and perhaps even influence some products that are being test-marketed and tweaked before going public." ~ Patti
"I love Pinecone Research! The surveys only take a few minutes to do and sometimes I get free things to try." ~ Julie
"This is a great site, I do surveys every couple of weeks and get $3 deposited into my paypal account!"

"I love this company! I love getting $3 here and there and then having some money to spend in my Paypal account!"
"This so works!!!! I get a check about once a week!!!"
"I like that you feel like your making cash right away, and not having to wait for cash or points to accumulate."
"I've been doing Pinecone for months now and I LOOOOVE IT!"
Now, using survey sites won't make a ton of money… but a little here and there can add up! 😉 Thanks for supporting The Frugal Girls!