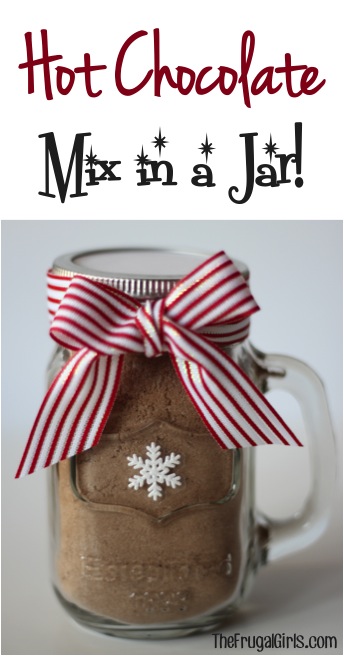 Nothing beats a warm cup of Hot Chocolate on a chilly day!
This Hot Chocolate Mix in a Jar makes a fabulous Gift in a Jar… and a delicious cup of cocoa!
What You'll Need:
2 cups Powdered Milk
1 cup Hershey's Cocoa
2 cups Powdered Sugar
1 cup Powdered CoffeeMate Creamer
Dash of Salt
What You'll Do:
Mix together all ingredients well.
Scoop into Mason Jars or cute Mason Jar Mugs
Affix a lid and add a pretty bow!
Include a Tag with the following instructions:
To make 1 cup, fill a mug 1/4 to 1/3 full of mix, stirring in 6 – 8 oz. of very hot water.  Stir well and add mini-marshmallows if desired.  Enjoy!
Then… you could even add some Chocolate Covered Spoons!