When it comes to delicious classic recipes, this Italian Meatballs Recipe tops the charts!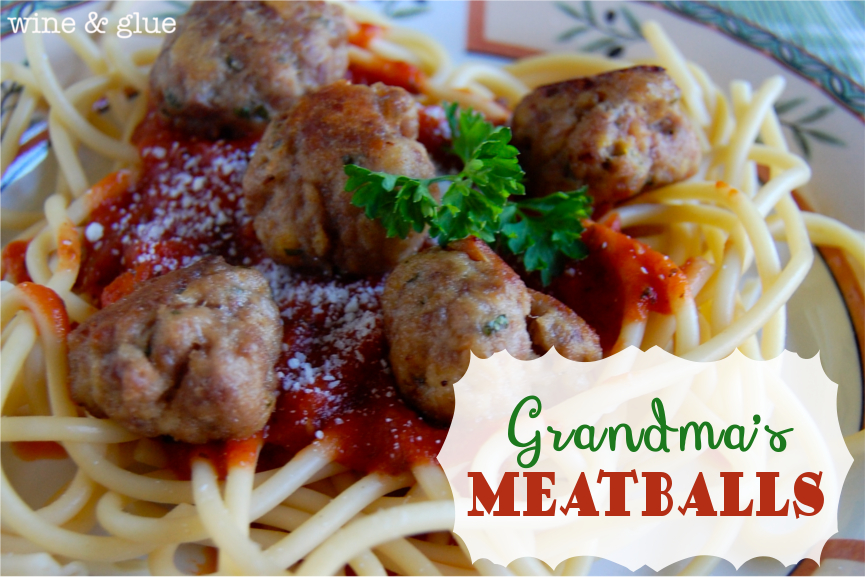 Following is a delicious Italian Meatballs Recipe and guest
post by Lisa at Wine & Glue… enjoy!!
I briefly considered doing a New Year's post . . . and then remembered how horrible I am at keep New Year's resolutions. Something I'm good at?  Eating meatballs. One of my happiest childhood memories is sneaking into my grandma's basement and sneaking the meatballs she was keeping warm in a ceramic bowl in her second oven.  (How cool was she?  A
second
oven??)  They were so insanely good, and I am convinced that those meatballs were made and "hidden" with the sole intention of feeding her grandkids.
I'm now such a good meatball eater, I could go pro. And as a special little New Year's gift to you, I'm going to share the recipe with you. You're welcome. One of the things that makes this recipe so delicious is the soaked pieces of bread that my grandma put in.  Yup, you read that right.  You soak four or five pieces of white bread in cold water for about five minutes and then ring it out.  And by ring it out, I mean squish it between your fingers to get the excess water out.  It's gross.  But totally worth it. If you are like me and forget to buy the breadcrumbs, just throw five more slices in a 250 degree oven for 30 minutes, turning them half way through and then run them through a food processor.
My grandma fried them, but I am far too lazy for that.  I just put them on a baking sheet and pop them in the oven for 15 to 20 minutes.  Then serve them with your favorite pasta, or just be like me and eat them by the bowlful.
Italian Meatballs Recipe
If you want to try one of Grandma's other amazing recipes, check out her Stuffed Eggplant!
Lisa is a stay at home mom to two little monkeys and wannabe seamstress, chef, baker, and party planner.  Visit her blog Wine & Glue for one of Lisa's takes on Italian cooking, check out her Red Wine Risotto and follow along onFacebook.
What is your favorite thing your Grandma used to cook or bake??
Leave a comment & share!