Enjoy a fun taste of Fall with this Crockpot Spicy Apple Butter Recipe!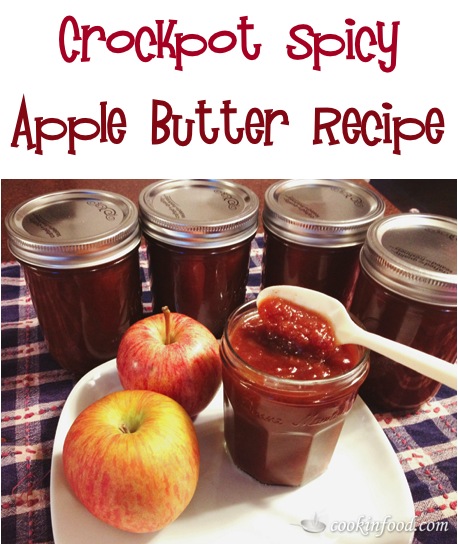 Following is a delicious Crockpot Spicy Apple Butter Recipe
and guest post by CookinFood… enjoy!!
I love Apple Butter! This 
Crockpot Spicy Apple Butter Recipe
 is the taste of all things Autumn. I really believe if fall had a flavor, it would be Apple Butter. It looks so tantalizing sitting there in the pretty jars, then once opened the aroma wafts all around one's head until you can't grab a spoon and piece of toast fast enough, so you nearly stick your finger into the jar to have a taste. Apple butter is a lost art. Many stores do not carry it and even fewer people make it.
The question left unanswered for me is, 'why?' It is the most easy of all of the jams in the entire world to make. My recipe is so simple, just toss everything into the wonderful invention that is the crockpot and walk away. 10 hours later there is jam. Well there is another step. Most will peel and core every apple. I don't waste my time with that. I am an old fashioned kind of gal.
The pectin that makes the jam set doesn't need to be added from a packet. Nope, it is in the peel and the core of the apples. So I just quarter the whole apples and toss the few other ingredients in. At the end of 9 hours, when I believe all is well and cooked, I smash everything through a wire strainer, thus removing peels and seeds.
In this process everything is so soft there is little effort involved. I know, I know, is she crazy or is she a genius? Well, go ahead and try this easy recipe and you can decide. I will warn you, unexpected guests may suddenly appear due to the wonderful aroma coming from your home.
Crockpot Spicy Apple Butter Recipe
Crockpot Spicy Apple Butter Recipe
Prep time:
Cook time:
Total time:
Ingredients
Around 8 pounds of Granny Smith and Fuji or Pink lady Apples. (Or any combo).
½ Cup Apple Juice
2 C. Brown Sugar
2 C. White Sugar
2 Tb. Ground Cinnamon
1 Tb. Chinese 5 spice
Instructions
Quarter apples and place in a large crock pot. Add all other ingredients and give it a stir to coat.
Place the lid on and let it cook on LOW for 9 to 10 hours.
At about 9 hours, strain the contents through a wire mesh strainer into a large pot and place back into your crockpot, discarding seeds and cores (perfect for the compost pile)!
Place it back in the crock pot and cook an additional hour uncovered until thick. Place into sterilized jars and refrigerate. Makes about 6-7 pint jars.
Yum
cookinfood.com
is a blog created by the Brady Girls – a mother, daughter, and sister team full of passion for food, and cookin' up great times together! It all started with thousands of recipes from our Gradma Brady that inspired us to share our family traditions, and new creations with all of you.
We hope you'll stop by cookinfood.com and share in Cookin' up Good Times! And get more from the Brady Girls at your fingertips with our cookbook Cookin' Up Sweet Treats: Cookies, Brownies, and Bars!  You can follow Cookin' Food on Facebook, Pinterest, and Twitter!
Still hungry?  Check out this Delicious Recipes…
Turn those fresh apples into something extra delicious with this easy Crockpot Applesauce Recipe!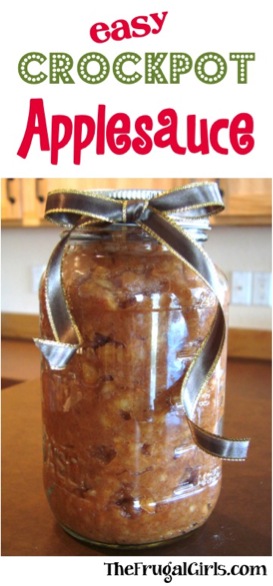 "Make everyone happy at breakfast with this yummy Crockpot Apple Cinnamon Oatmeal Recipe!"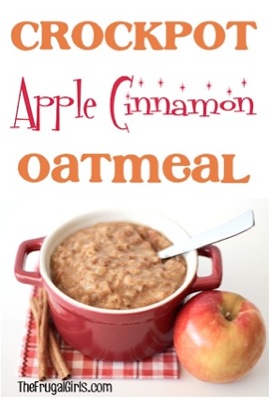 "Yummy Peaches + Your Slow Cooker = delicious homemade Crockpot Peach Butter Recipe!  Are you ready to take your peaches to the next level of delicious goodness??"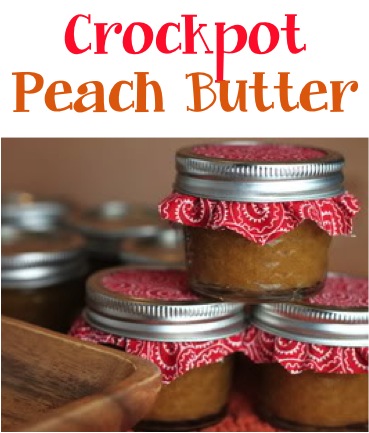 Get ready for these crunchy round chips that have the sweetness of bananas and almond extract, with just a bit of cinnamon kick.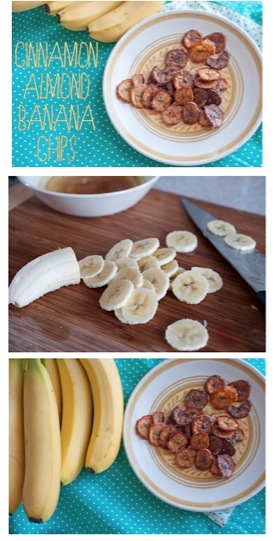 These Nutella Apple Nachos are a Nutella lover's dream come true!  Happy Nutella dreaming!!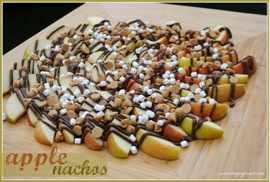 I can't get enough of these yummy Garlic Parmesan Kale Chips!  Healthy, Easy, and SO delicious!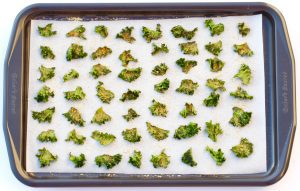 These Amazing Apple Recipes are the perfect way to enjoy our favorite fruit, the apple!