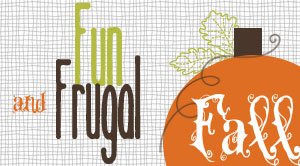 Get ready for a
FUN & frugal Fall
!  That's right ~ I've been storing up all kinds of goodies for you, and I can hardly wait to share them with you!!  {squeals of excitement ~ you're going to love it!}
Let's just say… we're going to be having a whole lot of frugal FUN this fall at TheFrugalGirls.com!
In addition to all of the great Freebies, Coupons, and Cute Clothing Deals, you can look forward to:
So… make sure you don't miss a single thing!
Sign up for Free Email Updates:
Already an email subscriber? Come join The Frugal Girls on Facebook, Twitter, Google+, and of course… Pinterest!
This is going to be a fabulous Fall, and I'm so glad you're here joining in the FUN! 😉