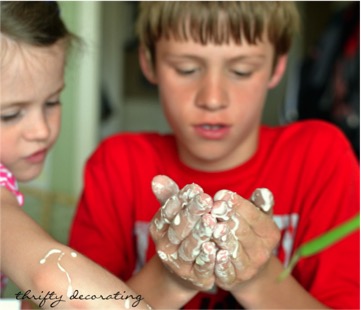 I am completely embarrassed to say that despite the fact that I've been a science teacher and homeschooled my kids…
….I've NEVER made this Oobleck Recipe until recently!
Wow…what have I been missing!
This is a super easy experiment and you probably already have all the ingredients on hand right now!
Ingredients:
You want to mix the cornstarch and water until you get a mixture that is not a
paste and not watery.  It will be about 3/4 cup of cornstarch to 1/2 cup of
water.  You do not need to be exact.
What is so amazing is that this is a Non-Newtonian fluid…..when compressed
it turns into a solid.  When the pressure is released, it turns right back into a liquid!
Translation….beaucoup fun!!
I must warn you though…it will get messy!
Nicole is a homeschooling mom of 3 who shares crafts, DIY projects and her homeschooling adventures at her blog Thrifty Decorating. You can also follow her on Facebook where she daily posts creative ideas, household tips, and additional homeschooling links or follow her Pinterest boards to get some creative inspiration!

See Also:
The BIG List of Frugal Summer Fun Ideas for Kids!
Got a Guest Post you'd like featured on TheFrugalGirls.com?? Go here to Submit a Guest Post!