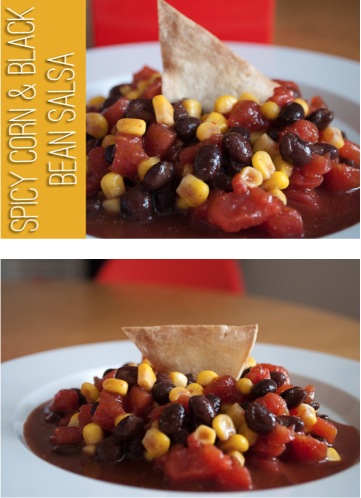 Following is a delicious Salsa Recipe and guest
post by Carly at CreateliveBlog.com ~ enjoy!
Once upon a time, I was in the mood for something spicy. And by spicy, I mean salsa. But I wanted spicy, chunky salsa. And I wanted some color.
So I whipped up this recipe. And then there we sat, a delicious bowl of Salsa in front of us, with no chips. How could I forget the chips?!
My partner in crime said… Darn. I wish we had chips.
My response? Give me ten minutes.
And, true to my word, ten minutes later, I had semi-homemade tortilla chips (thank God we had a bag of "authentic" corn tortillas hanging around!). And the rest, as they say, is history!

…oh, but did I mention the whole bowl is only 206 calories (and with 42% of your daily FIBER intake?!)
Spicy Corn and Black Bean Salsa
Calories Total: 206 (for the salsa recipe only)
Calories Per Serving: 52 (based on 4 servings)
Prep Time: 2 Minutes
Ingredients for Salsa:
1/2 Cup Corn (Look for Whole Kernal Corn and try to avoid any corn that says "Sweet,""Sweetened," etc)
2 Tomatoes, diced (or 1 cup Canned Crushed Tomatoes with No Salt Added)
1/2 cup Organic Black Beans (if buying a can, look for no added salt or low sodium)
2 tsp Sriracha Sauce (or 1 tsp for a more mild salsa)
Ingredients for Homemade Tortilla Chips (Just in case!):
8-10 corn tortillas (look for the lowest calorie bag. I've found that authentic is actually better in this particular quest!)
Directions for Salsa:
Combine all ingredients and mix well
Serve with chips! 
Directions for Homemade Tortilla Chips (Just in case!):
Preheat oven to 400 degrees
Stack Tortillas on top of each other and then cut them, all at once, into 4 triangle pieces for large chips or 8 for small chips.
Place on an un-greased cookie sheet and bake for 10-15 minutes or until crispy. Make sure to test a chip before you turn the oven off! If they're not crispy enough, keep them in for another few minutes.
Carly is a young blogger living in Chicago who loves mason jars, healthy cupcakes, oxymorons, and workout music! Check her out on Facebook, Pinterest, or visit her website!
Craving more delicious Salsa Recipes?  Get inspired below…