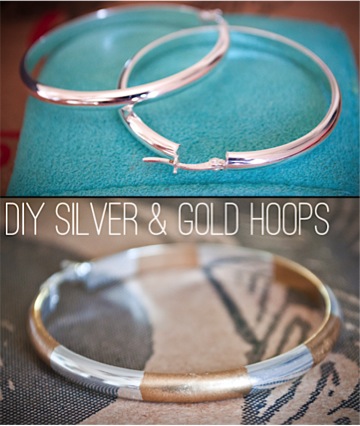 Following is a fun Jewelry Craft and guest
post by Carly at CreateliveBlog.com ~ enjoy!
Warning: This is a DIY Post. And I'm about to DIY something.
Silver Hoop Earrings first became "all the rage" when I was in Middle School. Everyone had them. Some were smaller. Some were larger. But, by gosh, if you were a student at my school, you had a pair.
Moving forward to today… gold and bronze are big parts of my wardrobe. My favorite watch is rose gold. My favorite bracelet is silver and gold. I have a few bronze necklaces. It's suddenly okay to mix and match metallics like it was never okay before (or was I missing out on this trend for all of eternity? I should ask my friend over at ExclusivelyChic…).
My solution? Paint them. Using some Superlite Gold Leaf Finishes and a tiny paint brush from CVS (yes, they sell paintbrushes), I hand-painted gold-ish-bronze-ish stripes on one pair of my silver hoop earrings.
It reminds me of Dr. Seuss for some reason… but in a good way.
Supplies:
My weapons of choice: Superlite Gold Leaf Finishes (from Home Depot), a paintbrush from CVS, and paper grocery bags to protect the table.
Time Needed:
5 minutes to paint, 5 minutes to let dry
Cost:
$0……..Old Hoop Earrings
$2.49…Gold Leaf Finishes Paint
$.99…CVS Paint Brushes
$3.39
Ah. And there they are. Sitting in their home (a blue and gold jewelry bowl I just made). Rest tight, little hoops. It's been real.
Carly is a young blogger living in Chicago who loves mason jars, healthy cupcakes, oxymorons, and workout music! Check her out on Facebook, Pinterest, or visit her website!
Find more fun Jewelry Tips and Ideas below…