Following is a delicious Healthy Chocolate Chip Cookies Recipe and
guest post by Carly at CreateliveBlog.com ~ enjoy!
Cookie dough is delicious… and yet, I'm not a huge cookie person. Does that make sense? Cookies are generally so high fat and high calories that I sometimes feel like I just can't justify it (especially when I can eat Cake Balls or Cupcakes for only 100 calories instead). And yet, at the end of the day, there is always a way to make a dish healthier… for example, check out my food page for healthy twists on foods.
After making 
Healthy Chocolate Chip Cookies 
Dough, I was determined to continue making this delicious treat… but I can't bring myself to make the exact same recipe over and over and over. Gotta reinvent. It's an addiction of some sort. And so I decided, hey, why not
try
 baking these things? It could work, right? All in all, I'm surprised by how good these are. You will need to flatten them with a spatula because the thick batter does not self-flatten in the oven. Essentially, the shape they're in when you put them in the oven is just about how they're likely to come out. Other than that tiny tweak, these babies are delicious!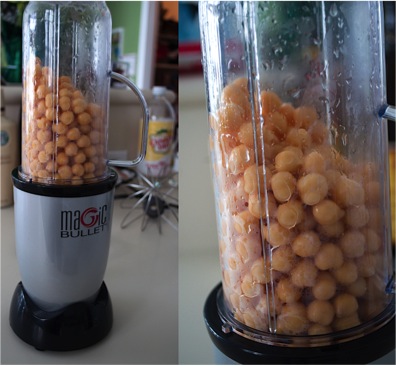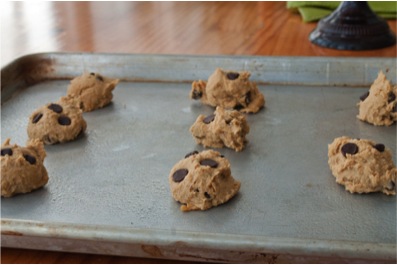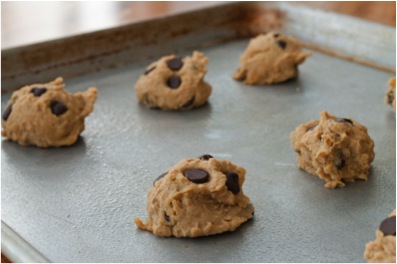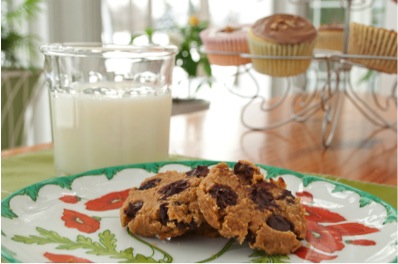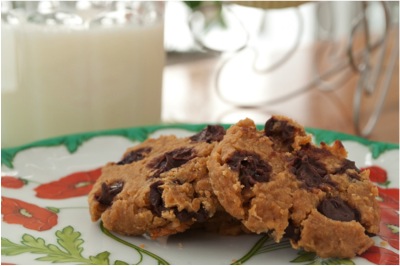 Chocolate Chip Chickpea Cookies Recipe!
Ingredients
1 can (1½ cups) Chick Peas, drained
½ cup Cashew butter (or Almond butter. Peanut butter
also works but definitely adds a peanut-ey taste).
½ cup Light Brown Sugar
2 teaspoon vanilla
⅛ tsp Salt
⅛ tsp Baking Powder
½ cup Chocolate Chips
Instructions
Preheat oven to 350.
Combine all cookie dough ingredients — EXCEPT for chocolate
chips — in a bowl and mix well. I used a magic bullet but wouldn't be
surprised if a high powered blender is also effective. I've also tried using a
hand-held blender and have to say that's probably my favorite method.
Once no whole chick peas remain, add chocolate chips and stir.
Scoop 1 inch thick balls onto a sprayed or greased cookie
sheet. Before placing in the oven, use the back of a spoon or spatula to
flatten the cookies because they will not flatten on their own.
Bake for 15-20 minutes, or until chocolate chips are melting.
Remove from oven and let cool.
Yum
Carly is a young blogger living in Chicago who loves mason jars, healthy cupcakes, oxymorons, and workout music! Check her out on Facebook, Pinterest, or visit her website!
Still hungry?  Find more Skinny Dessert Recipes below…