Monday-Schmonday! So… did you all have a good weekend??
I sure did!  The sun was shining, we had a visit from my sweet sis-in-law and cutie-patootie little niece, and I was even able to sneak away with my friend Heather to a cookie & cupcake decorating class!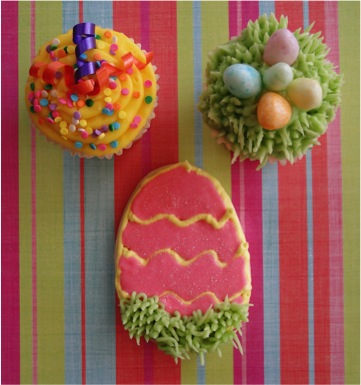 Thanks to a mega-deal scored on Groupon, we learned all sorts of fun techniques for decorating cookies & cupcakes, and I must say… I'm completely infatuated with this Wilton Grass Tip!  It's like grown-up play-doh time!  😉
You've seriously got to try this for fun Easter Cupcakes!!  After making the grass… just top with some jelly beans or mini-egg candies!
Yep ~ it was loads of fun, and the class even ended with some chocolate dipped strawberries and tasty little bakery treats.  Um… YUM!  😉
So… what did YOU do this weekend??
Have you ever been to a baking or cake decorating class?

Leave a comment & share!