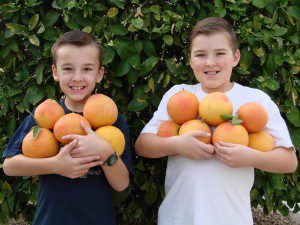 A fabulous way to save money on produce is by growing it yourself!
You may remember how our grapefruit tree gave us 125 huge ruby red grapefruit last year, well… it's done it again!
What's Growing in my Garden
No… it didn't produce 125 this year ~ but my guys counted our crop and we had just under 50!
We pulled them off the tree this week, and now have lots of grapefruit and fresh-squeezed grapefruit juice days ahead of us. We love eating from our back yard!
If you've got the space, try planting something that grows well in your climate. If you're limited on space, you may want to try a strawberry pot or even a windowsill herb garden.
What fruits, veggies, or herbs do you like growing in your garden? Leave a comment and share ~ I'd love to hear!
{this post is linked to: Life as Mom & We are that family}